The Spring Festival Holiday (8th-25th Feb.)
Sorry for that we can not offer customer service during holiday for Chinese New Year.
RU/ES warehouse can ship as usual, and Chinese warehouse ship from 26th Feb.
Please kindly understand and we will back in 26th Feb.
4G /3G Surfing Network Anytime Anywhere
If around the car, no wifi for internet surfing, no need worry.Just add one 3G /4G SIM card can make you connect to the internet.
TD-SCDMA:2100(B34)/1900(B39)
LTE:FDD,2100(B1)/1800(B3)
TDD 2600(B38)/1900(B39)/2300(B40)2500(B41)
Parking monitoring,24 hours guard your car
If you need 24 hours parking monitoring.Then need to buy OBD buck line
When the machine is powered normally and the monitoring mode is on, the vehicle is powered off
Record HD 1080P Video
Record HD Video in 1080P mode. 2.0 Wide Angle front camera lens, capture all the action in crystal clear HD video. Video and audio are automatically recorded in an endless loop and saved in memory card. Record traffic incidents, scenic travel, unexpected moments or any social media worthy video.
GPS Navigation
Junsun GPS Navigation has a search field that makes it easy to find addresses.
Speed limit indicator - unit displays speed limits for most major roads.
Built-in Android 5.1 Operating System
Build in RAM1GB+ROM 16GB internal storage, there is about 0.8GB available for application installation, and about 12GB internal storage available for data storage.
Easy Install
easy install,do not block the view,more safer
you can adjust the front camera and screen angle according to the board of your car
Up and Down Freely Stretch Lens
Junsun E29P is more portable than other sellers' products The bottom Seat can be disassembled, You can take him anytime ,anywhere
Thanks to 4G SIM card and built in wifi, no matter where you are driving, you will enjoy the fun from internet surfing , make it possible for online navigation/ music /movie ect .
GPS Navigation
Maps permanent free update,we pre-install the map for the device before shipping,
you can also install the online map such as:google map,yandex map to show the traffic jam,with online/offline map you can easy find your way
6.86" Full HD 1080P
6.86" touch screen display,

built-in wifi to enjoy online music and videos.
Remote Monitor on Car Assist APP
Remote Car Assist APP, check views on the mirror dvr by smart phone.
With our remote monitor mobile app"Car Assist" and internet connection,it allows you to remote monitor your car driving path,and what happened around your car
Monitor and Alarm
720P hpoto and 10s video alarm will be shortly (1-5s) send to your phone if a car collision happened. 24 hours to protect your car. It will send warning that "Car is shaking" to remiand you.
GPS Track History
Car driving path will be recorded and real-time payback on car assist APP.
One Key Capture Video
One key to capture 10s video on car assist app via WiFi connection.
Remarks: Please connect the dvr's wifi hotspot to make sure your smartphone and the car dvr under the same network.
How to use the " Car Assist " APP?
●Scam "Car Assist " code to install the APP.
●Turn on the WLAN of GPS and connect this wifi with your phone.
●start the APP and interconnectd.
Attention!
●Both DVR's and phone's Internet are available. Need insert SIM card in the DVR.
●Make sure your phone and DVR was interconnected successfully.
●The DVR need connect car battery to support this remote moniter, please use an OBD to suply power when car is not start. ​
Parking monitoring,24 hours guard your car
If you need 24 hours parking monitoring.Then need to buy OBD buck line

(Optional)
When the machine is powered normally and the monitoring mode is on, the vehicle is powered off
Car DVR Rader OBD 24HR Detectiing. Auto-start recording when moving object (within 8 meters 360,even in darkness)
Suitable for All-Car DVRS by USB port
Dual Lens Recording
This Car DVR has two cameras that allows for simultaneously
recording videos from two different angles , and have special two split view display.
Rear View Camera
When the car in Reverse Gear, this car DVR GPS will automatically switch to the
back-up camera image view with parking line.
powerful document protection function,the video will be saved intactly
Bluetooth Hands Free Function
Thanks to bluetooth hands-free, after pairing the bluetooth between dvr and smartphone, you could make and receive calls directly from the mirror dvr itself with the built-in MIC and speaker.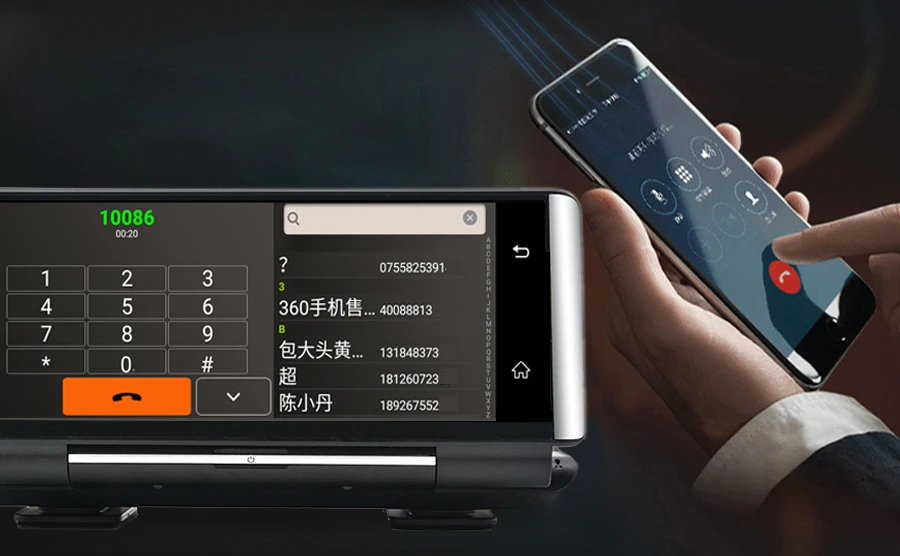 Online music, FM Transmitter Function
online music you can transfer the music to the car stereo by FM to enjoy the original car stereo sound
Android 5.1 OS, 1.3Ghz, Quad Core
MT6735 quad core 1.3Ghz high performance processor incorporates Android 5.1 smart systems, plus it built in RAM 1GB+ROM 16GB, it makes Junsun E29p operating more smoothly and achieve multiple functions.
UI Interface
1,When you insert the SIM card correctly, but still can not access the Internet, please check the data of 3G/4G card
2, We recommend using original APPs of devices only.Do not install other customized APPs. They can't be compatible with our devices. Installing too many APPs, will also slow down the operation of the equipment.
Q: The device can inter the 3G/4G card but can not connect the internet.
A:

Please check weather the data of your 3D card was use out. If the date was use out, you can connect Wifi hotspot from your cellphone. Pay attention to your date when watching videos online.
Q: Why the device goes sleep very 3 seconds?
A:

It can use only when connect the car power. Please make use connecting your car when running the device.
Q: The SD memory card can' t be read in device.
A:

Please try to format the SD card on your computer several times and try again.
Q: how can I update the map ?
A:

when the map update , we will upload the map to the dropbox, and share the dropbox link and the install method to you at the first time . And updating map free of lifetime.
Q: Need special Bracket for installation?
A:

No need, this dvr will be install on your car center console.
NOTE:
If you park outside in the summer,please put the equipment into the car,in order to avoid the damage of the high temperature.
All Dear friend,Pls read me before you make order.
1

.GPS navigation needs for outdoor use, search for satellite positioning! And when running GPS navigation, connect the original car charger.
2

.we will declare the lower price on the invoice/bill to help avoid custom duty. If the parcel get strict inspected by custom. You still need to pay tax to clear custom. We won`t bear the customs taxes.If you have special requests,please contact us.
3

.In the option of shipment, if you choose DHL,not include DHL remote cost, custom duty, or any commission charged by dhl for custom clearance or warehouse storage cost.
4

.Please open the parcel in post officer`s presence,If the parcel damaged or empty(stolen),please ask the post office to provide official document,especially the claim request paper
5

.If you have any problem with your equipment, pls check our FAQ link first,it may can help you solve the problem quickly.>>:

Click me to enter FAQ page
6

.About the Shipment,pls check this link.>>Click me to enter Shipment introduction Page